Savannah, Georgia is by far one of my favorite places to visit. I have been a handful of times and taken friends and clients out this was to explore, experience, and capture this charming historical city. I'm going to give you a sneak peek into some of my favorite places and local eateries. Let's be real, one of my favorite reasons to travel, aside from beautiful new views, is to experience the local cuisine!
Let's first start with places you absolutely need to see on your trip to Savannah!
First, Forsyth Park, a 30 acre park located in the heart of downtown Savannah. This Park has so many great spots to visit for the lone traveler or families. From a beautiful water fountain, a theater, playgrounds, open fields, oak canopies, and even a fragrant garden catering to the blind. Forsyth park has all the charming beauty that you expect to experience when arriving in Savannah. The second place you need to visit is Wormsloe Historic Site. There is a small fee for visitors, so they can keep this park up and running for all to experience. When you arrive, you go through a huge arch and are immediately greeted by a beautiful oak canopy lining the road all the way down to the visitor center. At the visitor center, they have a museum documenting the historical significance of Wormsloe. There is 7 miles of trails, leading back to a colonial village and the tabby ruins which is the oldest standing structure in Savannah. Even though there are so many more places in Savannah, the last I'm going to touch on is Tybee Island. About 20 minutes outside of downtown Savannah is this little beach spot that has the most beautiful lighthouse that over looks the shore. I am always drawn to places with lighthouses because my grandmother grew up on Virginia Beach and absolutely loved lighthouses. Visiting places like Tybee island keeps her memory alive for me. This transitions me right into local cuisine!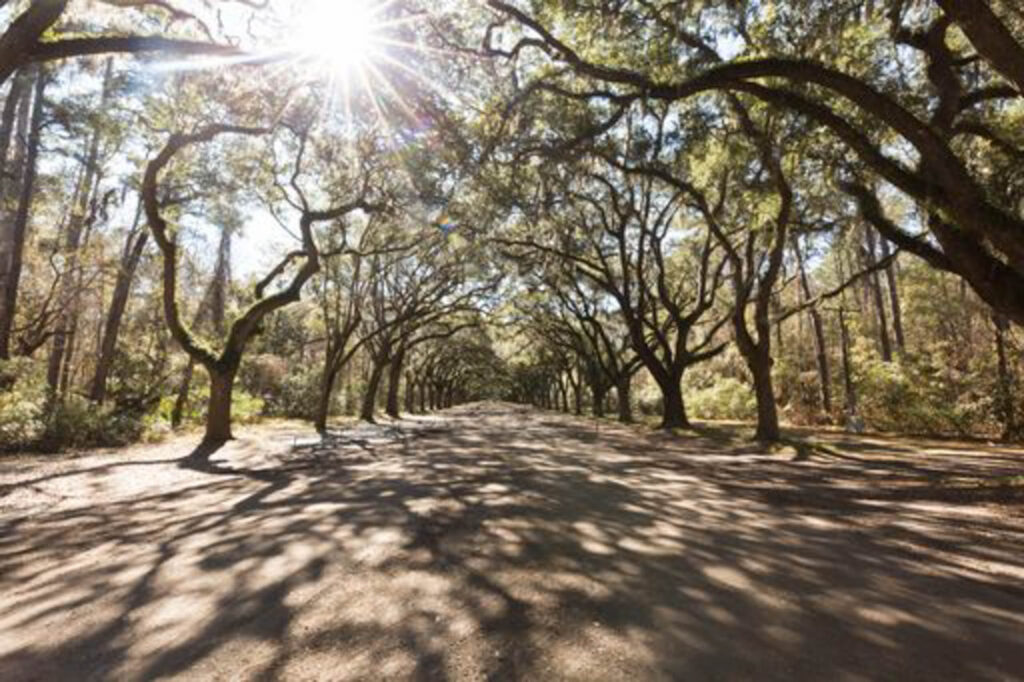 One of my favorite places to eat with amazing seafood is on Tybee island, called the Crab shack. I originally visited this quaint indoor/outdoor restaurant back in 2015 and I go back just about every time I am in Savannah. Back then, they had stray cats coming in for miles. They would sit and wait for you to give them a scrap of that delicious seafood you were eating. Nowadays, they spay/neuter all the stray cats that come close to their restaurant and even have little homes for them outside their gift shop. Great seafood and they help the animals! If you are looking for the best breakfast in Savannah, I would highly recommend Clary's!! The have the best corned beef hash I have ever eaten! During the Covid pandemic, they had a big problem getting in the briskets to make their homemade hash but good news is they don't have any issues now! But keep in mind, it does sell out if you don't get there in time! If you are looking for a romantic and upscale dinner spot, I more than highly recommend the Olde Pink House! This is my favorite dinner spot in Savannah, located near Reynolds Square. A few years back I made a reservation for here and was called several days before because a fire had started in their ballroom. That didn't stop me from coming back when they did finally renovate! Their biscuits, fried green tomatoes, and fried chicken are to die for! Not to mention their service is impeccable!
With all that being said, I hope you give one of my favorite spots a visit! I also want to add that there are so many other local spots and wonderful restaurants that I just don't have the space to write about them all. I'd love to know what your favorite places are in Savannah!!